By the numbers: Clash of titans highlights Champions League draw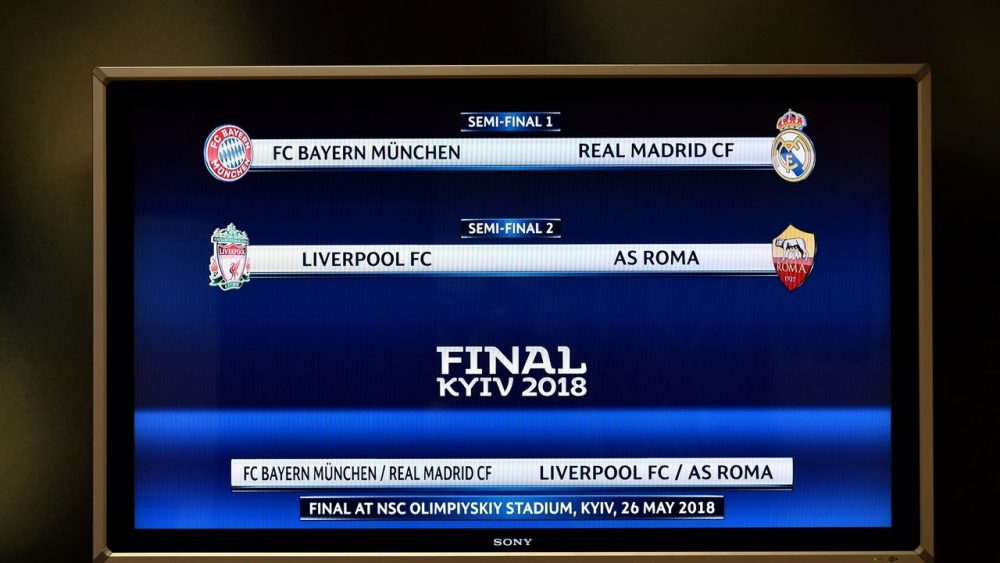 The Champions League semi-final draw was held Friday in Nyon, Switzerland, and the sounds of Bavarian groans were mixed with Merseyside glee as supporters of the four sides assessed their lots.
On the continent, things aren't always as they seem, and while the Liverpool faithful may be ecstatic to draw Roma with a trip to Kyiv on the line, Eusebio Di Francesco's men will be content to concede possession and force the high-flying Reds to penetrate a robust midfield and backline.
In the Spanish capital, Real Madrid supporters must be wondering what Zinedine Zidane and Co. have done to deserve a third consecutive league leader. For all the talk of Los Blancos' luck in Europe, Real is tasked with yet another challenging draw in Bayern Munich on the heels of a group that featured a spirited Tottenham side and Borussia Dortmund.
With the semi-finals set to kick off the last week of April, here's a glance at 10 compelling numbers providing a backdrop for what should prove to be a tasty next round of European soirees:
1: Liverpool has lost just one of its previous five matches with Roma including the 1983-84 European Cup final penalties victory.
3: Real Madrid's draw of Bayern marks the third consecutive matchup with a league leader following knockout-stage victories over Paris Saint-Germain and Juventus.
5: Bayern has been eliminated from the tournament by Real on five occasions, more than any other European opponent.
6: Friday's draw marks the sixth time on the bounce Bayern faces a Spanish team in the last-four, and since winning the 2013 installment, the Bavarian behemoth has been bounced by Spanish sides in each of the last four tournaments.
7: Bayern's James Rodriguez won seven trophies in 110 matches with Real before joining the Germans on loan last summer.
17: Real and Bayern have won 17 European Cups between them, with the Spaniards boasting a record 12.
24: Real and Bayern have met on 24 occasions in European play, with the sides winning 11 times each.
33: Liverpool's 33 goals lead the tournament, while its semi-final foe, Roma, has scored the fewest of the teams left standing (15).
39: Mohamed Salah has 39 goals for Liverpool in 44 matches in all competitions, compared to 34 in 83 when he played with semi-final foe, Roma.
1981: The last time the four European Cup semi-finalists came from Italy, England, Germany, and Spain was in 1981 when Liverpool topped Inter and Real bested Bayern. Liverpool went on to beat the Spaniards 1-0 in the final.
(Photos courtesy: Getty Images)