Seller's remorse: 9 players who should have been sold at peak value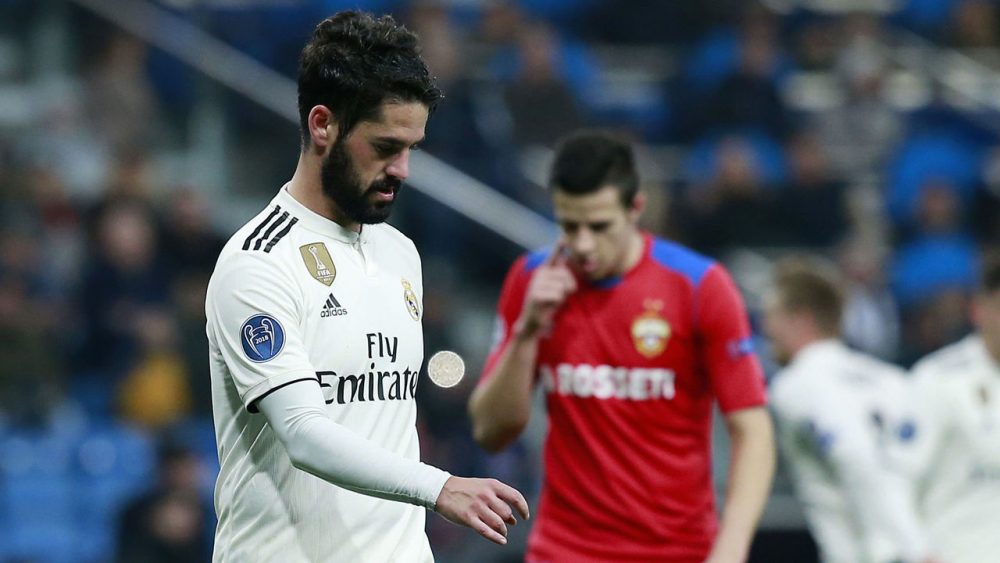 Strike while the iron is hot.
It's an adage football administrators would be wise to heed, as a combination of injuries and regression in form often sees a once-treasured player's value plummet.
Here's a glance at nine players across Europe's top leagues who could have once fetched an extravagant fee only to have their transfer appraisals curtailed:
Isco (Real Madrid)
Real Madrid's mismanagement of the Isco situation verges on criminal. Arguably Spain's best player at the World Cup, Isco should have been one of the capital city club's pillars this season, especially after Cristiano Ronaldo's move to Juventus and Los Blancos' subsequent resistance to replace him in the summer window. Instead, Isco has become an afterthought at the Bernabeu under Santiago Solari.
Few players in football possess Isco's ability to retain possession and navigate close quarters, though it doesn't seem to matter to Solari, who hasn't named the 26-year-old to the starting XI for a league match since his appointment. It is utterly bizarre that Real's brass would back Solari, who in all likelihood is gone in the summer. Isco could have become the eighth player to nab €100-plus fee, now, potential suitors have leverage in negotiating a budget fee.
Andrea Belotti (Torino)
The 2016-17 Serie A season boosted Belotti's profile from a player with potential to a star-to-be as the Italian international bagged 26 goals in 34 starts for Torino. It marked a meteoric rise for Belotti, and Il Toro rewarded the striker with a deal through 2021 that included a €100-million release clause for foreign clubs. Even with the opulent fee, Manchester United reportedly maintained an interest in hopes of replacing outgoing Zlatan Ibrahimovic and Wayne Rooney.
The following campaign, it all came crashing down to Earth. Belotti struggled for fitness with a pair of knee concerns and managed just 10 goals in 32 league outings, and suddenly, a player who could fetch nine figures now appeared a shadow of his former self. It's now unlikely a club outside of Italy would pay €100 million, meaning Belotti might have to stay put unless his current terms include a cut-rate clause for Italian sides.
Sergej Milinkovic-Savic (Lazio)
Towering Serbian Milinkovic-Savic arrived in Russia for the World Cup under the spotlight. On the heels of a stellar campaign at Lazio, the 23-year-old midfielder became one of the most sought-after talents with a ball-stopping defensive presence and an ability to contribute on attack. The player was heavily linked with Manchester United and fees in excess of £100 million.
An underwhelming showing in Russia consistent with that of his Serbian mates carried over into the 2018-19 season, and only recently has Milinkovic-Savic regained last season's form. He was particularly good against Cagliari and Torino, scoring in each match to end a near three-month wait for a goal. Milinkovic-Savic is still a stud likely to garner a massive fee, just not as lucrative as it would have been in the summer.
Harry Maguire (Leicester City)
Seems like an eternity ago that Maguire was on top of the world. With a noggin visible from space, the Leicester City centre-half headed an Ashley Young cross to propel England to a World Cup quarterfinal victory over Sweden. The Sheffield-born no-nonsense defender became a symbol of the venturesome Three Lions, and even with the country split over Brexit, they were united in their love of Maguire.
Fitting that Maguire would also fall on the wrong side of a case of the "should I stay, or should I go," as he remained with the King Power despite reports he was Manchester United's cheaper alternative to Toby Alderweireld. A few months on, and Maguire has been poor, with the jaw-dropping last-second defeat at Wolves on the weekend the latest example of a player desperate for a return to form.
Julian Weigl (Borussia Dortmund)
Borussia Dortmund's Weigl was a hot commodity in summer 2016. His debut campaign at the Signal Iduna Park yielded 50 appearances in all comps, prompting the Bavarian-born midfielder's inclusion in Jogi Low's Euro 2016 Germany squad. The second season at BVB followed suit, and Weigl became linked with a move to Manchester City as a long-term replacement for Fernandinho as a dependable line of defense in front of the back-four.
A season-and-a-half later, the additions of Axel Witsel and Thomas Delaney to Lucien Favre's midfield have relegated Weigl to just four league starts. As recently as last summer, reports suggested Dortmund appraised Weigl at £68 million. Now surplus to requirements, Dortmund have reportedly demanded €25 million from Paris Saint-Germain for the player.
Emil Forsberg (RB Leipzig)
Now 27, Forsberg was one of the stars of RB Leipzig's shock 2016-17 second-place finish a year after earning Player of the Year honors in the second tier. Come January, the slick dribbler was a reported transfer target, finishing the campaign with 22 assists, the highest return in Europe's top-five leagues.
Despite a slew of transfer rumors, Leipzig refused to budge on Forsberg and fellow star-to-be Naby Keita. "I've never experienced an arrogant attitude like this," was the response from Forsberg's agent, adding that Leipzig were "destroying his dreams." Successive fitness, hip, and groin concerns have seen Forsberg make just a half-dozen league appearances this year as his value plummets like bitcoin.
Leon Bailey (Bayer Leverkusen)
Amid countless transfer reports, speed merchant Bailey renewed his contract through 2023 following a stellar 2017-18. Months later, the 21-year-old has fallen back to Earth with a poor start to the season, a common fate for young players boosted by a red-hot debut.
"Manchester United, Manchester City, Chelsea, Liverpool – a lot of clubs were interested," Bailey said. "(But) you want to develop in the right environment; around the right minds and mentality." Approaching the fifth month on the spin sans league goal, Bailey's progress may have not been significantly stunted by staying put, but Leverkusen's bank balance, and that of his representatives, surely have.
Djibril Sidibe (Monaco)
Monaco's failure to sell Sidibe as part of an opulent exodus of emerging talent is a bit like hosting a successful yard sale only to find you left a valuable item behind. Anyone familiar with the full-back's resistance to defend would have been rightly concerned about making a high-profile move for the unrefined talent, but hey, that didn't stop Chelsea from splashing €40 million on former Monaco midfielder Tiemoue Bakayoko.
Sidibe, 26, is one of a handful of remnants from Leonardo Jardim's title-winning side, and injuries have made a player who could have fetched in excess of €30 million a dented can in the clearance aisle at your local grocer. Now tainted by perpetual ailments and Monaco's unforeseeably disastrous campaign, a suitor adept at employing attack-minded wingbacks may get a steal with Sidibe.
Kasper Dolberg (Ajax)
Like Monaco, Amsterdam talent incubator Ajax are set to make millions from their highly coveted young talent. With Frenkie de Jong off to Barcelona and Matthijs de Ligt the subject of transfer speculation, forward Dolberg was once in that conversation. Incredible to think the 21-year-old Dane is now an afterthought just two years removed from a breakthrough 2016-17 season that witnessed the 10-time capped international bag 16 Eredivisie goals.
A series of injuries that include a pesky foot concern during the 2017-18 campaign saw Dolberg struggle to keep his spot in Erik ten Haag's starting XI. Once linked with some of Europe's biggest clubs, rumors for Dolberg have cooled, though he could do worse than continue to develop in the Eredivisie; for Ajax, the €270K sent to Silkeborg for the forward means it's a win-win situation.